The Department of Allied Health Sciences, MLCU organised a webinar on
"Healthcare Delivery in the Wake of COVID19: A Tribute to the Allied Health Front-liners"
on
December 14, 2020. 
Over 250 participants attended the sessions where eminent speakers included Dr Glenn.C. Kharkongor, Dr Jamuna Prakash and Dr Kyntiewlang Sanmiet. The highlight of the webinar were the testimonials delivered by the alumni of the Department of Allied Health Sciences, MLCU who, during the height of the pandemic, worked as Covid-19 warriors.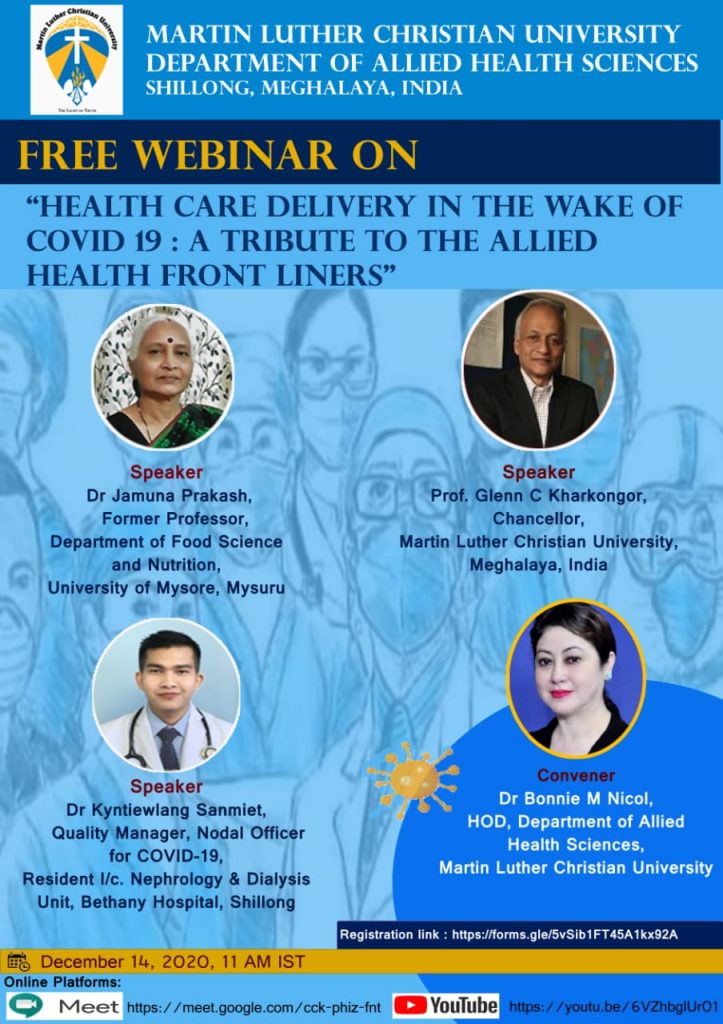 Dr. Glenn.C. Kharkongor, Chancellor, MLCU, in his address, pointed out that as per the World Health Organization, there is a shortage of allied health professionals globally and nationally. Dr Kharkongor presented statistics that showed that in our country and in the north eastern states, the number of healthcare workers is less than half of the actual number required. It was also pointed out that the lack of proper categorization of allied health workers poses a problem in framing an adequate response or strategy. He also mentioned the National initiative for Allied Health Services, an effort by the Public Health of India in 2012 that was later put forth as the National Commission for Allied Healthcare Professions Bill, 2020 in the Lok Sabha and Rajya Sabha. This Bill recognized 53 allied health professions which will be formed under various professional councils with an aim to license and give proper credentials to allied health professionals. Attention was also drawn to the importance of women healthcare workers who make up 70% of the Covid19 front-liners globally. The session ended with an emphasis on a proper preparation for new allied health careers that will emerge post the pandemic. 
Dr Kyntiewlang Sanmiet, Quality Manager, Nodal Officer for Covid-19, Bethany Hospital, Shillong, in his session, mentioned that Covid-19 has really brought about rapid changes in healthcare delivery and the implementation of Telemedicine has helped in mitigating risks of infection for patients who sought consultations with physicians during the pandemic. This had been further aided by the introduction of the Home Healthcare Services for sample collection, provision of daily wound dressings and delivery of medicines. The provision of facilities to cater to both Covid-19 and non-covid-19 patients has also greatly helped in minimising the risks of infection in hospital premises. Dr Sanmiet also spoke broadly about the novel corona virus, the modes of its spread as well as the various preventive measures that both healthcare workers and the general public are expected to rigorously adhere to. 
Dr Jamuna Prakash, Former Professor, Department of Food Science and Nutrition, University of Mysore stated that in the history of civilization, health workers are as important as farmers and soldiers. In the session, the two important issues faced by most people during the pandemic; nutritional deficiencies and excesses, and non-communicable or lifestyle diseases like diabetes, hypertension, obesity, cardio-vascular diseases were broadly discussed. It was highlighted that taking care of one's health has the two-fold benefit of giving one an enriched life and reducing the burden on health facilities. Towards this, healthy eating habits should be complemented by exercise and immunity boosting foods as malnourishment through an unhealthy diet contribute to nutritional inadequacies and worsens pre-existing conditions leading to increased risk of infection. Alternative traditional therapies also help in reducing the probability of various ailments. During the pandemic period, food safety is key as it minimizes the risk of contracting the virus via surface contacts and unhygienic handling, packaging, and delivery of food. The session ended with an emphasis on keeping good faith and developing a positive attitude.
The webinar ended with testimonies by alumni representatives.