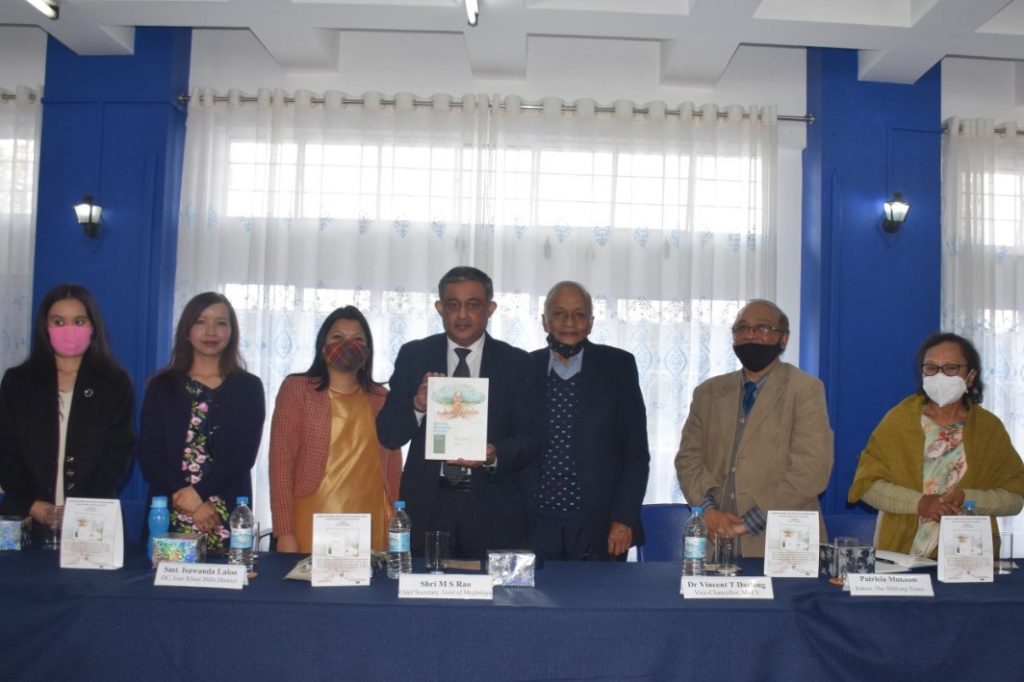 The book "Gender, Sexuality, and Society in Northeast India" was released today March 8, 2021, by Mr MS Rao, Chief Secretary of Meghalaya. The book, published by Martin Luther Christian University Press, is a 560 page compilation of 23 chapters written by researchers and sociologists. Most of the studies are from universities and community organizations in the region, but there are chapters from scholars at Jawaharlal Nehru University, New Delhi, the University of Melbourne, North Eastern Social Research Centre, Guwahati, Indian Institute of Public Health, Shillong, and the International Centre for Research on Women, New Delhi.
The book is edited by Dr R. Jennifer War, Head of the Centre for GENDER, MLCU, and Dr Glenn C. Kharkongor, professor of public health in the School of Social Work of MLCU. The foreword for the book was written by Ms Patricia Mukhim, editor of the Shillong Times and a well-known advocate of gender equality.
The book examines gender issues of tribal communities and seeks to engage in a dialogue with youth in discussing contemporary social issues of the region. The historical and social context covers the local factors of culture, colonialism and Christianity, and the worldwide concerns of patriarchy, the LGBTQIA+ community, and the silent pandemic of violence against women during Covid.
The book can serve as a textbook and provides learning materials for college and university students, community professionals, and for government and civil society organisations. It contains exercises and activities that follow each chapter, enabling reflection, analysis and discussion.
The cover, designed by Careen Langstieh has a picture of Ka Ïawbei: a woman, a mother. And as described by the artist, the focus is on her, "she is the reason the tribe thrives and the clan exists. She is as old as time, she is wise, she is central. Without her the hearth is not warm and the rice refuses to puff up."
The event opened with remarks on Paving the way for women from Joy Grace Syiem, Policy Lead, North East Network Shillong. Patricia Mukhim , Editor, The Shilong Times commented on the imperatives for women leadership.
In his remarks the Chief Guest, Mr MS Rao, Chief Secretary, Govt of Meghalaya, stated that crimes against women and domestic violence are rightly included in gender discrimination, but another factor that has been less emphasised is male mental health, which is neglected in our country. He added that gender discrimination in traditional institutions of governance where women are not allowed to have decision-making positions, has deprived communities of social advancement. He also talked about the growth of SHGs in the state, making Meghalaya one of the success stories in the country in this sector.
The Guest of Honour, Ms Isawanda Laloo, Deputy Commissioner of East Khasi Hills District said that although great strides have been made for women empowerment in various fields across the world, a hard look at the facts and figures would remove any romanticised notions of how far women have come. She added that in our state we are all too aware of the realities of women's health, nutrition, reproductive rights, and the many challenges faced by mothers, especially single mothers, in grappling with poverty and lack of opportunity. Ms Laloo also stressed that so long as sex education is not a vital part of our social discourse and education system, we will still have many teenage girls carrying the burden of motherhood for which they are not physically, mentally or emotionally prepared for. She concluded that we need to empower them, and that given the opportunity, women can contribute to all spheres of human activity, including leadership at all level.