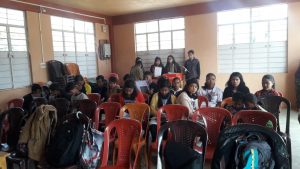 Martin Luther Christian University received a three year funding from the ICMR (Indian Council of Medical Research), New Delhi for a project entitled "Alcohol use among adolescent tribals in three corners of India" under the Principal Investigator Dr R Jennifer War. The two main objectives of the workshop are to estimate prevalence of alcohol use, psychiatric morbidity and related risk factors among 11-19 year old tribals in three states of India and to conduct a feasibility study of the NIMHANS Life Skills Education model in forestalling alcohol use in tribal adolescents.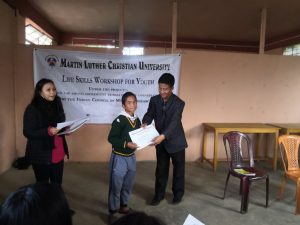 To implement the second objective of the workshop, the research team organised focus group discussions with community members in Nongrah on November, 2019 and in Mawlynrei on February 2020 to ascertain the need and relevance of the workshop. Three Life Skills Workshops have been conducted from December 2019 to March 2020 for youth of Nongrah and Mawlynrei, East Khasi Hills. Around 65 youth of the age group 15-19 years attended the workshop. Community members were also part of the workshops as rapporteurs and observers.The workshop was facilitated by trained faculty of the Department of Psychology, Social Work, Allied Health Sciences and Centre for GENDER of the university.
The youth were given extensive training on motivation, self-awareness, self-esteem, high risk behaviour, facing failures, assertiveness, nutrition, self-improvement and social responsibility.The pedagogy employed were group discussions, reflections, role play, videos and games.
Assertive behaviour when dealing with peer pressure and negative influences and the dangers of adventurous, high risk lifestyles and sensation seeking behaviours were highlighted.The main focus of the workshop was on forestalling the use of alcohol especially at this vulnerable age. Follow up on the effectiveness of this workshop will be conducted at six months and twelve months post workshop.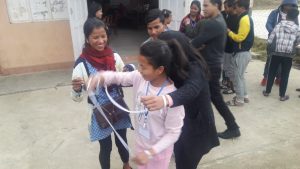 Speaking at the inaugural program, the Secretary of Mawlynrei, Mr W. Kharshohnoh emphasised the importance of providing such workshops especially for the youth who are the leaders of tomorrow. Speaking at the valedictory session, one of the participants stated that they would share the information with their friends and family on the ill effects of alcohol.