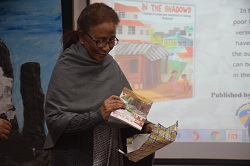 The Center for Publication and Communication released Dr. Melari Nongrum's 'In the Shadows: Children of Urban Poor in Meghalaya' at its main premises. The book was released by the Chief Guest of the event, Padmashree Mrs. T. Phanbuh, Chairperson, Meghalaya State Commission for Women in the presence of faculty and staff of MLCU and family, friends, and well-wishers of Dr. Nongrum.
Speaking at the release, Mrs. Phanbuh congratulated the author for having done justice to the subject that she chose for the book. She further expressed hope that the book will help the children of the poor households of Shillong and would especially help in the issues that these kind of households face, single motherhood being one of them.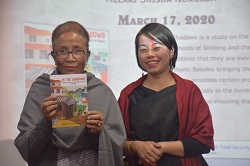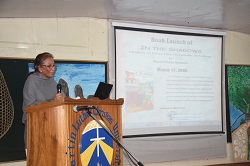 The book is a study on the children of urban poor households of Shillong and the effect that the adverse conditions that they are inevitably subjected to have on them. Besides bringing these issues to light, the author also proposes certain protective factors that can be practiced locally in the family and even globally in the community thus ensuring that stakeholders formulate a positive, effective, and holistic solution. This book also contains exercises that would enable students to use it as a reference and work book.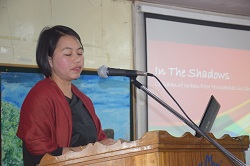 Speaking at the event, the author expressed her gratitude to the University and to the Center for Publication. She also spoke broadly about the book and the issues that are highlighted in it. One of these is the fact of children living in urban poor conditions being exposed to smoking and alcohol use at a very young age. Because of this, 22% of the children on which the research was carried out felt insecure and unsafe in their homes. This is worsened by the fact that 27% of the households on which the survey was done had only one parent who, most often, is a mother. A few of the protective factors proposed in the book are the various initiatives that can be taken by the church in protecting and promoting child rights and the interests of children as well as promoting values and spirituality in the family. Measures can also be taken by the community at various levels, some of them being support services, community rehabilitation initiatives, and committees for child welfare. However, for all this, data is needed to validate the argument as well as to bring about policy changes and this is what this book aims to provide. The author also urged everyone to take on a proactive role in issues relating to the welfare of children.